A Caesar cipher (shift cipher) is one of the simplest encryption methods. It is a Substitution Cipher that involves replacing each letter of the secret message with a different letter of the alphabet which is a fixed number of positions further in the alphabet.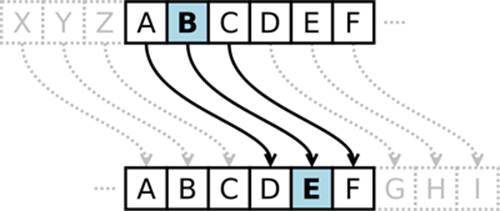 Example :
Apple
-------------Shift By 2---------->
Crrng
Now write a C++ program to Encrypt data using shift cypher .
Take care that small letters encrypted to small letters and capital letters are encrypted to capital letters

character except a...z and A...Z should not encripted

keep in mind that shift key may be from 1 to large number.
Caesar Cipher (C++)
---
string st

;

//String To Encode

cout

<<

"Enter String :"

<<

endl

;

cout

<<

"Enter Shift Key :"

<<

endl

;

//If shift is greter than 26 then it repreat itself

//Just Like angle repeat after 360 degree

else

if

(

temp

>

64

&&

temp

<

91

)

{
GET More Basic Crypto Algorithms: Github
Python 2.7 (Using Modular Approach)
#********************************************************

def

shift_cipher

(

st

,

key

)

:

It return shift cipher encoded string

It does not Encode any char

Not in range A..Z or a..z and 0..1

if

asciiV

>

64

and

asciiV

<

91

:

rst +

=

chr

(

(

(

asciiV-

64

)

+key

)

%

26

+

64

)

elif

asciiV

>

96

and

asciiV

<

123

:

rst +

=

chr

(

(

(

asciiV-

96

)

+key

)

%

26

+

96

)

elif

asciiV

>

47

and

asciiV

<

58

:

rst +

=

chr

(

(

(

asciiV-

47

)

+key

)

%

10

+

47

)

st

=

raw_input

(

'Enter String To encode : '

)

key

=

int

(

raw_input

(

'Key ?? :'

)

)

print

str

(

shift_cipher

(

st

,

key

)

)